Former CFTC Head Says Big Cryptocurrencies Could Be Classified as Securities
Go to article
Ether, Ripple may be securities, former CFTC head Gensler says

Many digital coins are likely operating outside the law
Tokens sold in initial coin offerings have come under increased scrutiny from U.S. regulators, but some of the biggest cryptocurrencies aren't necessarily off the hook.
Gary Gensler, the former chairman of the Commodity Futures Trading Commission, said that government officials should take a closer look at the largest coins by market capitalization, not just at tokens sold in ICOs. Ethereum's Ether and Ripple's XRP could probably be classified as securities, Gensler said.
"The SEC and regulators need to bring clarity," Gensler said at MIT Technology Review's Business of Blockchain conference on Monday. Many cryptocurrenciers "are operating outside of U.S. laws."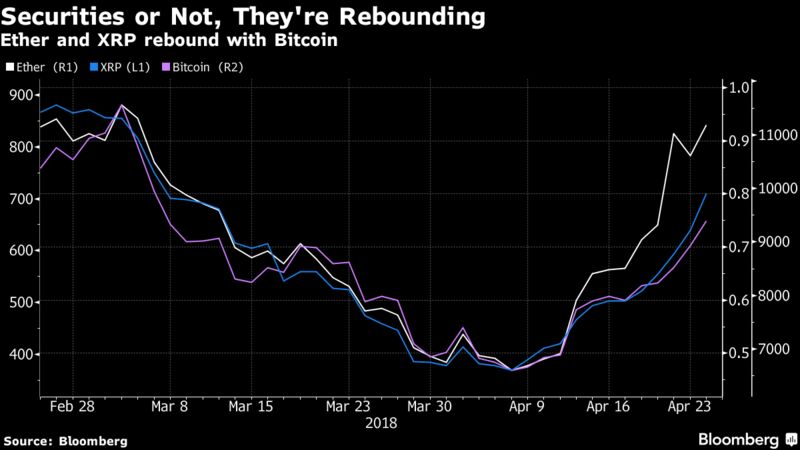 One of the ways regulators determine if an asset is a security is with the so-called Howey Test. For Gensler, buying Ripple's XRP and Ether meets the requirements of the test as there's an investment of money in a common enterprise, and the expectation of profit which comes from the efforts of a third party. The common enterprise for Ripple would be Ripple Labs, and for ether it would be the Ethereum Foundation, Gensler said.
"There's a strong case, particularly for Ripple," Gensler said, as Ether is more decentralized.
Issuer Perspective
A Ripple representative said in an email, "we don't believe that XRP should be classified as a security. XRP does not give its owners an interest or stake in Ripple and they are not paid dividends. XRP exists independent of Ripple, was created before the company and will exist after it. Ripple has always promoted XRP as a useful digital asset for enterprise payments because it's faster, more scalable and more inexpensive than other digital assets. That utility exists completely separate from Ripple."
The Ethereum Foundation didn't immediately respond to a request for comment.
A classification by the U.S. Securities and Exchange Commission as securities would subject the coins and exchanges offering them to greater scrutiny. Most cryptocurrency trading platforms based in the U.S. which offer Ether, do so even as they're not SEC regulated securities exchanges. Ripple hasn't been able to list its coin on major U.S. crypto exchanges.
Bitcoin, Litecoin and Bitcoin Cash probably wouldn't be classified as securities as they weren't sold in ICOs, said Gensler, who is now a senior lecturer at the Massachusetts Institute of Technology. The CFTC has said virtual currencies, like Bitcoin, are commodities.
If the SEC decides that any of the cryptocurrencies are securities, then its issuers will probably end up in court, Gensler said. The SEC could decide in nine months to a year, or 2 to 5 years at the longest, he said.
Most coins sold in ICOs are both so-called utility tokens and securities, Gensler said. Increased regulation would probably have a cooling effect on ICO sales, but would be positive to the broader blockchain and cryptocurrency sector, he said.
Gensler said he wants cryptocurrencies and blockchain projects to thrive as they can enhance the financial system.
Blockchain technology can "lower cost and lower risk," he said. "The question is how we go forward."